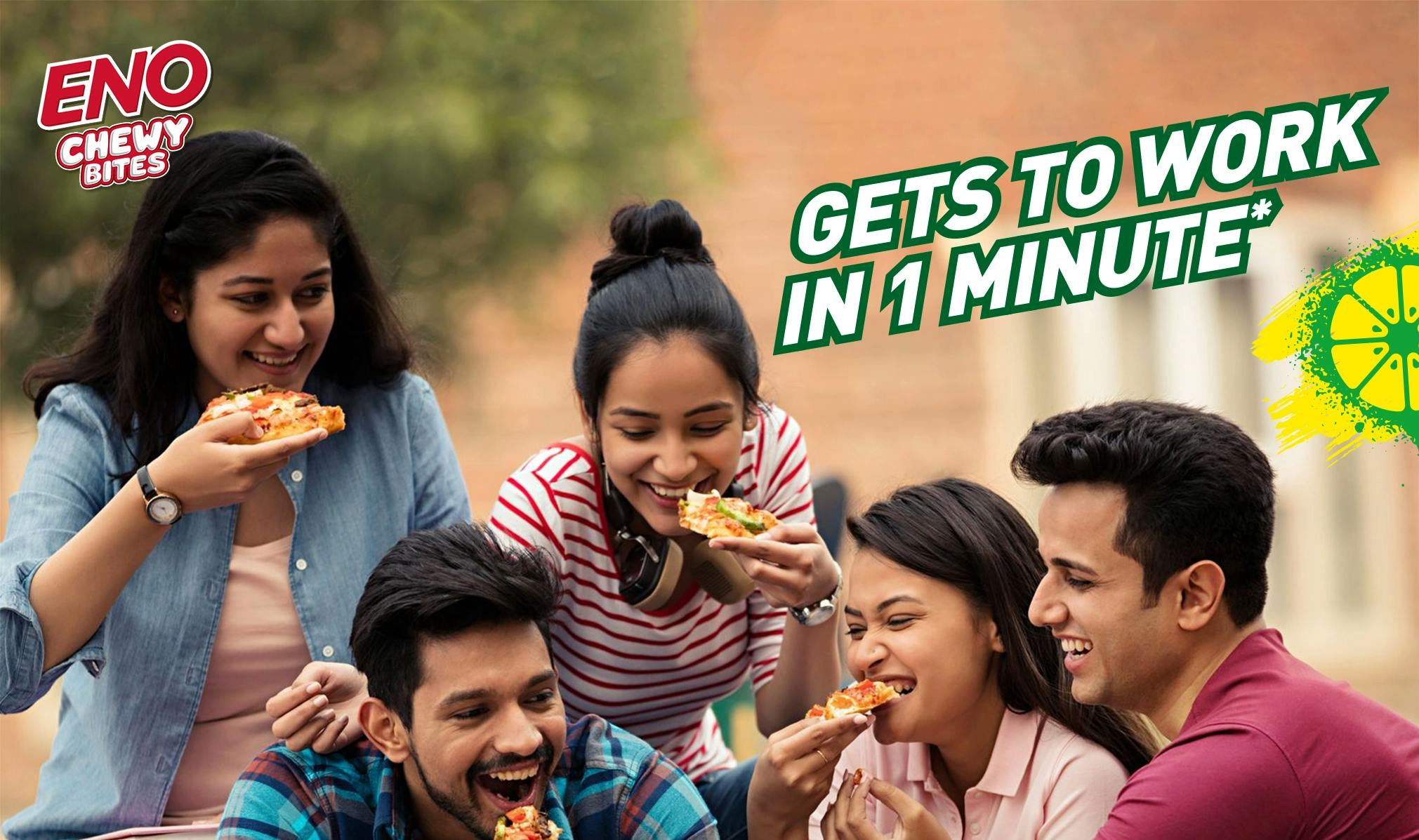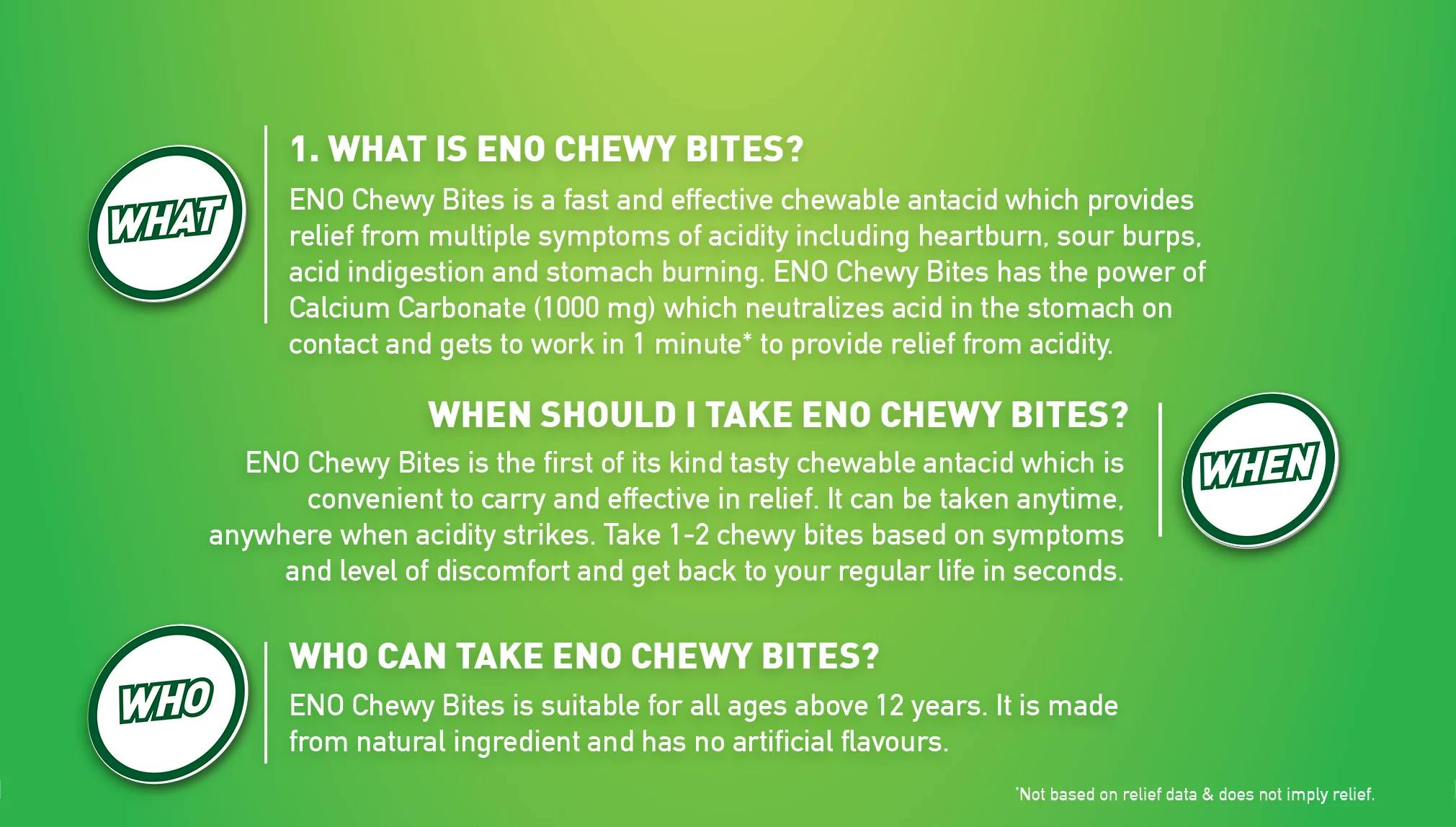 1. When would I use ENO Chewy Bites?

ENO Chewy Bites relieves acidity including Heartburn, Sour Burps, Acid Indigestion & Upset stomach associated with these symptoms.

2. What are the key ingredients of ENO Chewy Bites?

ENO Chewy Bites is made from Natural Ingredient and has no artificial flavours.

Khatika Churna (Calcium Carbonate) - 1000 mg is the active ingredient of ENO Chewy Bites which comes from nature.

3. How many flavours does ENO Chewy Bites come in?

ENO Chewy Bites are available in two exciting flavours – Tangy Lemon and Zesty Orange.

4. What is the right dose of ENO Chewy bites for me?

Take 1-2 tablets basis symptoms and level of discomfort. Do not take more than 4 Tablets in 24 hours.

5. How do I take ENO Chewy Bites?

ENO Chewy Bites are Chewable Tablets. Chew them before swallowing. No need of water and can be taken easily on the go.

6. How does ENO Chewy Bites work?

ENO Chewy Bites provides gentle and effective relief from multiple symptoms of acidity like Heartburn, Sour burp, Acid Indigestion & Stomach Burn. ENO Chewy Bites contains ingredients that neutralize acid on contact and provide relief from acidity and its symptoms.

7. Can I give ENO Chewy Bites to my children?

Yes, Chewy bites is suitable for all above 12 year of age. It is gentle and tasty chewable tablet which are liked by all and convenient to use.

8. Is ENO chewy bites as effective as ENO?

Yes! ENO Chewy bites is a gentle and effective solution for acidity. It comes in a chewable form and is made with a formula that gets to work in 1 minute. Its Acid Neutralizing capacity is at par with ENO Powder which makes it as effective as ENO in providing relief from Acidity.

9. What Contraindications, warnings and precautions should I be aware of before taking ENO Chewy Bites?

Do not take if you are allergic to the ingredients or have a high blood or urinary calcium level, calcium deposits in kidneys, kidney stones or are on a low-phosphate diet. Do not take more than 4 chewable tablets in 24 hours or for more than 2 weeks unless advised by the doctor. Consult a doctor before use if using other prescription medicines, as calcium may affect the absorption of other medicines. The product may cause constipation, flatulence, nausea or belching. Read pack label for additional information of ENO Chewy Bites.
References
Garg V, Narang P, Taneja R. Antacids revisited: review on contemporary facts and relevance for self-management. J Int Med Res. 2022 Mar;50(3):3000605221086457. doi: 10.1177/03000605221086457. PMID: 35343261; PMCID: PMC8966100.
*Gentle on stomach when used as directed
#Gets to work in a minute, not based on relief data and doesn't imply relief